GENERAL INFO


BIKING BENEFITS
BIKING TIPS
BICYCLING MAPS
BIKES ON THE BUS
RULES OF THE ROAD
REGISTER YOUR BIKE


LINKS


CALIFORNIA

BICYCLING & WALKING

LEAGUE OF BICYCLISTS

MERCED BIKE COALITION

NORTHERN CALIFORNIA
NORTHERN CALIFORNIA NEVADA CYCLING ASSOCIATION

SOUTHERN CALIFORNIA

STANISLAUS COUNTY

CONTACT US

MERCEDRIDES.COM


Commuter Bike
This emerging category is the one to watch for bike commuters. Aptly named, commuter bikes are the workhorses of the bike world. They've been wildly popular in Europe and Asia for years, and are finally making their way across the pond to U.S. shores. The rider position is upright, stable, and comfortable.

The upside: They can be equipped with fenders to keep you clean and dry on wet roads; cargo racks (or at least rack mounts) to carry your bags; and allow room for chain guards to keep your pants grease and fray free. As with all bikes, other useful options like kickstands, lights, reflectors, and bells can be added.
Road Bike
Built for speed, road bikes have skinny, smooth, high-pressure tires; low drop handlebars; and a narrow seat—all designed for fast, aerodynamic performance.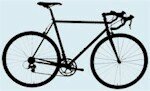 The upside: They're super efficient and generally have 16 to 20 "speeds," meaning you have a variety of gears to help you pedal easily on hills and flat terrain.

The downside: Non-racing riders often find the
hunched-over position uncomfortable. To make them more commuter friendly, raise the handlebars to achieve a more upright position.

Seat Tilt
Adjust your seat tilt for comfort: Many cyclists keep their seats level, while others have them tilted. If the front of your seat's tilted too high your butt will hurt, and if it's tilted too low you'll slide forward and strain your arms.
Choosing the Right Bike

EXTRAS


KID'S BIKES & HELMETS
RIDER STATISTICS
SCENIC ROUTES


RESOURCES


CHOOSING A BIKE
ELECTRIC BIKES
BIKE EQUIPMENT
BIKE MAINTENANCE
BIKE SAFETY
BICYCLE TRAFFIC SIGNS


CALENDAR
NEWS
&
EVENTS


AMGEN TOUR
MERCO CYCLING CLASSIC
NATIONAL BIKE SUMMIT
NATIONAL BIKE MONTH
BIKE TO WORK WEEK
BIKE TO WORK DAY
NEWS/PRESS


Mountain Bike
Designed for off-road riding, mountain bikes have fat, low-pressure, knobby tires that grip roots, rocks, and mud; flat, upright handlebars that are easy to maneuver on tricky terrain; and many easy gears for climbing steep, gravelly hills. Most also have "suspension" or shock
absorbers.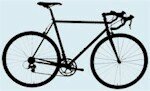 The upside: They're very stable and comfortable.

The downside: Those big tires make them slow and inefficient on the pavement. To make them more commuter friendly, add narrower, smoother tires.
Lifestyle Bike
With comfort in mind, lifestyle bikes have upright handlebars, wide tires, plenty of gears, suspension seat posts, and wide saddles to help give you the most comfortable ride possible.

The upside: The ride is comfortable wherever your adventures take you.

The downside: They're heavy and not as fast as a road bike. A lifestyle bike is a popular choice for those who seek comfort over speed.

Saddle Soreness
If you haven't bicycled in a while, expect to be sore at first; chafing or soreness should get better with time. If it doesn't, the first thing to check is the seat adjustment; see Seat Tilt above and Seat Height. If adjusting doesn't help, look into a seat pad, a wider seat, a seat with a hole in the middle, or padded or seamless cycling shorts.
Fitting Your Bike
Your bike must fit you. That's your first important safety feature. If you're not comfortable, you're more likely to ride badly and hit something. Getting exactly the right fit depends on many things--including your size and riding style--so you should talk to a bike dealer if you have fit problems. But first, consider these six points.
Frame Size
If your bike's frame is too tall, too short, or too long, it's very hard to adjust other things to make you comfortable--so you might need a new bike.
Check the Height
Stand with your bike between your legs. Measure the space between the highest part of the top tube and your crotch. For city riding a one inch to three inch space is safest. (This is a general rule. It's different for other situations, such as off-road riding or with bikes that have a sloping top tube.)
Frame Length
If, when you ride, you feel overly stretched or have pain in your neck, shoulders, or back, your frame might be to long. Try moving the seat and handlebars closer together. Also, some people--including many women--have torsos shorter than what most bikes are made for. If you're one of them, you can get a bike with a shorter frame height and raise the seat higher, or get a bike made for people with smaller torsos.
Seat Height
A seat that's too low will strain your knees, while a seat that's too high will make it hard for you to pedal and put your foot down. Here are some ways to get the right seat height for city riding:
Sit on your bike and push one pedal all the way down. Put the ball of your foot on the pedal. If your seat's high enough your knee should be slightly bent.

If your hips rock from side to side when you pedal, your seat's too high.

Don't raise your seat so high that less than two inches of your seat post extends into the frame. Most seat posts have a mark showing how high you can raise them.

If you have to raise your seat higher, get a longer seat post.
Handlebars
After you've set your seat height, set your handlebars so you feel comfortable. Some things to guide you:
Start by raising or lowering your handlebars so they block your view of the front axle when you're sitting on your bike.

With your hands on the handlebars, you're elbows should be slightly bent (not locked).

Lower-back pain often means the handlebars are too far away, while upper-arm or shoulder fatigue often means the handlebars are too close to you.

Try raising or lowering the handlebars. Or moving your seat forward or backward. You can also change to a shorter or longer handlebar stem.

Don't raise your handlebars so high that less than two inches of your handlebar stem extends into the frame.

Most stems have a mark showing how high you can raise them. If you have to raise your handlebars higher, get a longer stem.

Rotate your handlebars so that they put even pressure across the palms of your hands without bending your wrists in a strange way.